Intensive Reading: Comprehension
Groupwork
Activity 1
Read and act out the dialogue below in small groups.
| | |
| --- | --- |
| Pamela | I had a lot of fun during the holidays. What about you? |
| Paul | So did I, but tell me what you did. |
| Pamela | As a family, we visited Lake Nakuru National Park in December. |
| Paul | I haven't been there myself. Did you see a lot of animals? |
| Pamela | Oh yes! Our driver took us to see lions, buffaloes, rhinoceroses, giraffes, hippopotamuses, waterbucks and ostriches. By the way, he was also our tour guide. |
| Paul | Did you see all these animals? |
| Pamela | Yes, we did but they were not very close. I still remember one giraffe that appeared sick. My little brother begged my mother to treat it. |
| Paul | Ha ha ha! But why your mother? |
| Pamela | My mother is a doctor. She told him she is not a veterinarian. Now what about you? Tell me what you did. |
| Paul | Well, on Christmas Day, we visited my grandparents. Most of my aunts, uncles and cousins were there. We also made friends with the neighbours' children. We had a lovely time together. |
| Pamela | I also love family gatherings. Anything interesting that you did? |
| Paul | Oh, yes. My cousins and I decided to play a game called "What I will be". |
| Pamela | Mmm! Sounds interesting. What was it about? |
| Paul | We were pretending to be adults in various occupations. We were imitating our parents and other people we know. |
| Pamela | I see. What did you pretend to be? |
| Paul | I acted as a dentist. I told my cousin Loise to open her mouth wide so that I could extract her aching tooth. |
| Pamela | Was her tooth really aching? |
| Paul | Of course not. Loise claimed that I had removed the wrong tooth and said that as a lawyer, she was going to take me to court. |
| Pamela | She wanted to sue you? That means she was aware of her rights. Was there anyone acting as a judge? |
| Paul | Indeed, there was. It was my cousin Eliud. He said that he would listen keenly to all the facts before making a decision. |
| Pamela | Mmm! That sounds like a sober judge. No wonder they say as sober as a judge. So, did the game end there? |
| Paul | Oh no! Just then, Alice, my sister, started making some strange roaring noises. She was wearing Dad's cap. "Give way and hurry up! I want to land the aeroplane," she said. |
| Pamela | So she was pretending to be a captain? |
| Paul | You are right. She started boasting that her job was the most important of all. |
| Pamela | Did you agree with her? |
| Paul | Definitely not. We told her she needed the services of a hair dresser, a garbage collector, a baby sitter, a butcher and even entertainers like magicians and musicians for her life to run smoothly. |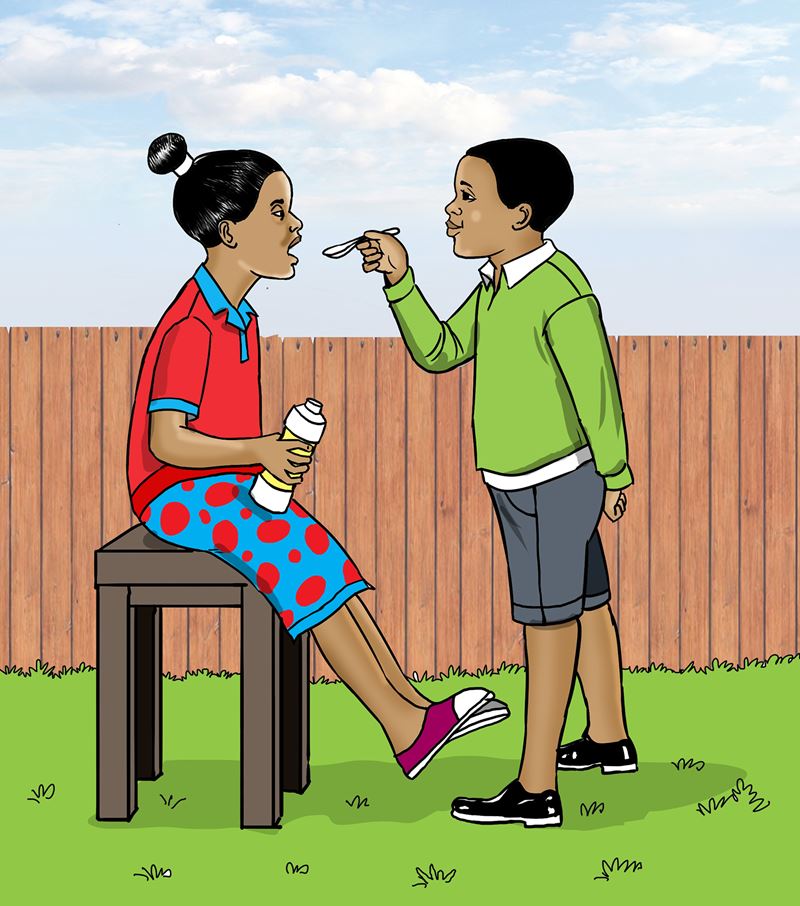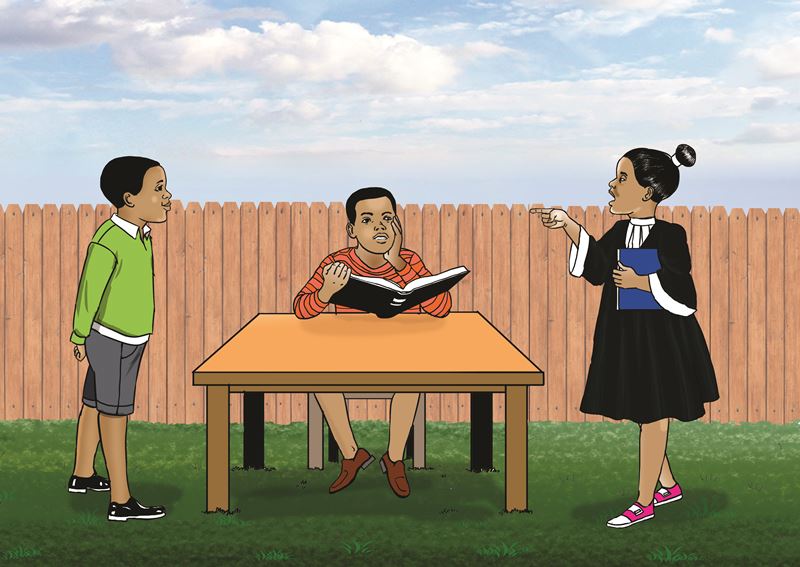 Groupwork
Activity 2
Work in pairs. Read the dialogue again and pick out the words and expressions whose meanings you do not know.
Now try to guess what they mean. Tell each other what helped you to guess the meaning from the dialogue.
What is common between Pamela and Paul in the dialogue?
How can we tell that Pamela's little brother has a kind heart?
What is the difference between the work of a doctor and that of a veterinarian?
What should a wise judge do before making a decision?
What noise does an aeroplane make when it is landing?
We can describe Alice as.
What were Pamela and Paul talking about?
In what way were Paul and the others trying to act like adults?
Did you realise that...
You can guess the meaning of the word "sue" from the previous line: "she was going to take me to court."? "Sue" means taking someone to court for wrongdoing so that action can be taken against him or her.
What about the meaning of "extract"? You can guess the meaning from a sentence that is ahead: "Loise claimed that I had removed the wrong tooth…." In this case, "extract" means remove.
Groupwork
Activity 3
Work in groups of three. Read the dialogue again. One of you will be the dentist, the other will be the patient as well as the lawyer and the third person will be the judge. Use your own words to act out the dialogue.
Activity 4
Work in small groups. Talk about what you would want to be in future and explain why. You can use your own experience. For example, you may want to be a veterinary officer because one saved the life of your only dog.
Homework
Go through a storybook that you are reading or have read before.
Look for words that are new to you and try to guess their meanings from the way they have been used.
Confirm with a dictionary. You can also use an online one.