Determiners as Quantifiers
Activity 1
Read the passage below, noting words that tell us the following:

How much of something there is
How many people there are
How many things there are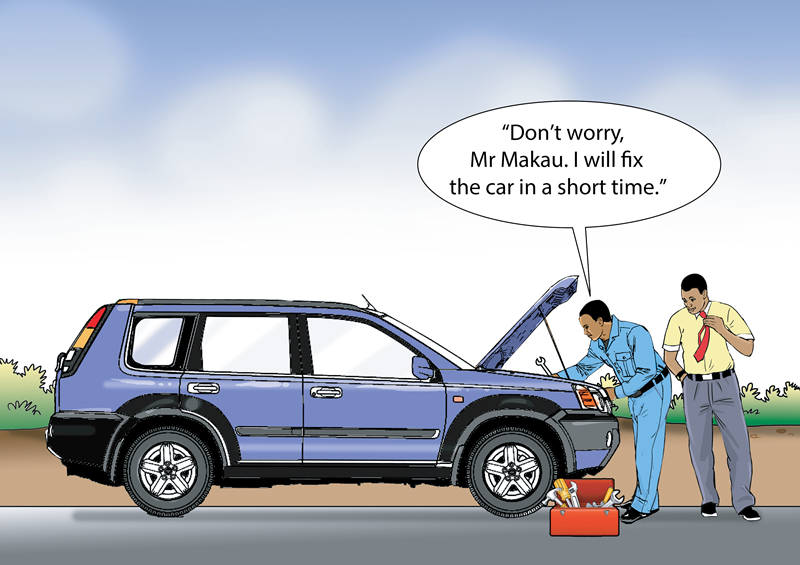 A lot of children say they want to be doctors, pilots, engineers, teachers or lawyers when they grow up. Now, can you imagine what would happen if everyone did the same kinds of jobs? If, for instance, we were all teachers, who would grow crops? Obviously, there would be little food to eat.
Unfortunately, few people want to do manual jobs. Many of us only have a few pairs of shoes which at one point or another will need mending. Do you realise that the cobbler who mends them is as important as the dentist who takes care of our teeth? You have probably heard of the debate concerning the importance of teachers and doctors. A teacher who falls sick runs to a doctor for treatment. However, it is a fact that all doctors passed through the hands of teachers. Some doctors and engineers think that theirs are the most important jobs. They forget that they must wear clothes which are made by a tailor. They need the shopkeeper who sells them goods and the police officer who gives them security.
Pilots are highly trained people whose services we need to fly to distant places. Although they make enough money, they need someone whom they can trust with their savings. This is the banker. On a few occasions, something goes wrong during takeoff or landing and the plane catches fire. Did you know that it is firefighters who save such a situation and broadcasters who announce the news?
People want well paying jobs so that they can lead comfortable lives. To many, this means a permanent house and a car among other things. Architects, masons and plumbers are some of the people involved in building such houses. As for the car, the person we need when it breaks down is a mechanic. This shows that each occupation is important. To call a spade a spade, some people do not earn as much as others. It is possible, however, that even those who earn the least money can find joy and satisfaction in their jobs. After all, money is not everything. Actually, some people are able to do quite a lot with a little money if they plan their lives well.
In pairs, identify the words that indicate the amount of something, the number of people or the number of things.
With the help of your teacher, watch a video about amount words.
Activity 2
Now look at the words n these two boxes. Tell your partner about the following:
Box 1

Box 2

little food
​a little money

few people
​a few pairs of shoes
The words in red that refer to things we can count.
The words in red that refer to things we cannot count.
The ones that refer to a small number or amount.
The phrases that refer to a much smaller number or amount than expected.
Activity 3
Match the words in column A with those in column B so that you come up with as many sensible phrases as you can. Write the phrases down.
Column A

Column B

all

engineers

​sugar

​houses

​​patience

​actors

enough

few

each

a little

a lot of

a few

least

little

most
From column A, list the words that can be used both with the things we can count and also those we cannot count. An example is "all" which can be used with a count noun (all schools) and also with uncountable nouns (all the dust).
In small groups, identify and read the sentences that have the words in column A. You can use the Internet, books, newspapers and magazines.
In small groups, make sentences with the words in column A.
To make that dish, very salt is needed.
Luckily, cleaners love their job and do it thoroughly.
I like these plants over here because they use up the water during the dry season.
Although the fire was spreading fast, only houses had been burnt when the fire fighters arrived.
Abuterera only needed encouragement to complete the race.
The teacher asked pupil to stand up and take part in the activity.
You look tired. Did you have sleep last night?
After I finished my work, I felt as free as a bird.
It is not necessary to eat food for you to be healthy.
There were no mangoes in the market and the I got were unripe.
Groupwork
Activity 5
In groups of eight, play a game called "Hello, Cousin." Each of you will choose one word among the ones given in the box below. You will all go to the front but whoever picks the word

mangoes

will stand aside from the others. The others will listen keenly as the teacher reads sentences containing the words they have picked. If you hear your word, step forward and shake the hand of "mangoes" and say: "Hello, Cousin."
| | | | | | | |
| --- | --- | --- | --- | --- | --- | --- |
| all | a lot of | enough | a few | most | few | mangoes |
Now get into groups of six and repeat the game but this time choose your words from the box below. Whoever picks the word

porridge

will stand aside from the others.
| | | | | | |
| --- | --- | --- | --- | --- | --- |
| little | all | a lot of | enough | a little | porridge |
Homework
At home, look for newspapers and magazines, select two articles and identify the following quantifying determiners in them.
| | | | | | | | | | |
| --- | --- | --- | --- | --- | --- | --- | --- | --- | --- |
| few | a few | little | a little | a lot of | each | all | enough | most | least |
Look at how the quantifying determiners have been used.
Use them in your own sentences.
Writing
Creative Writing: Pictorial Composition
Activity 1
Work in pairs and look at the pictures below. Talk about what is happening in each.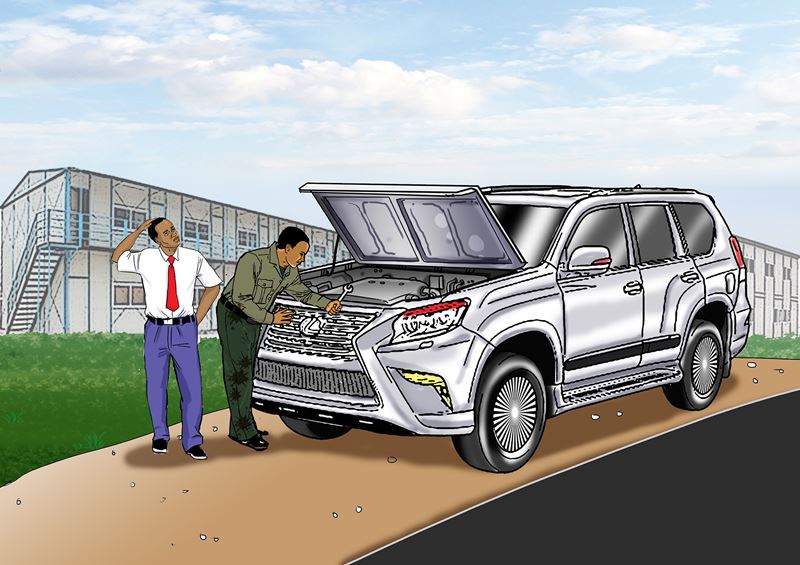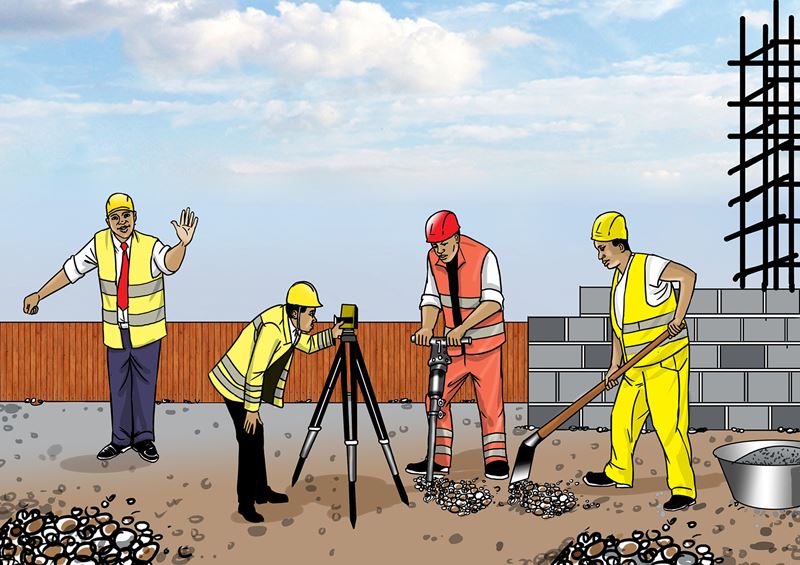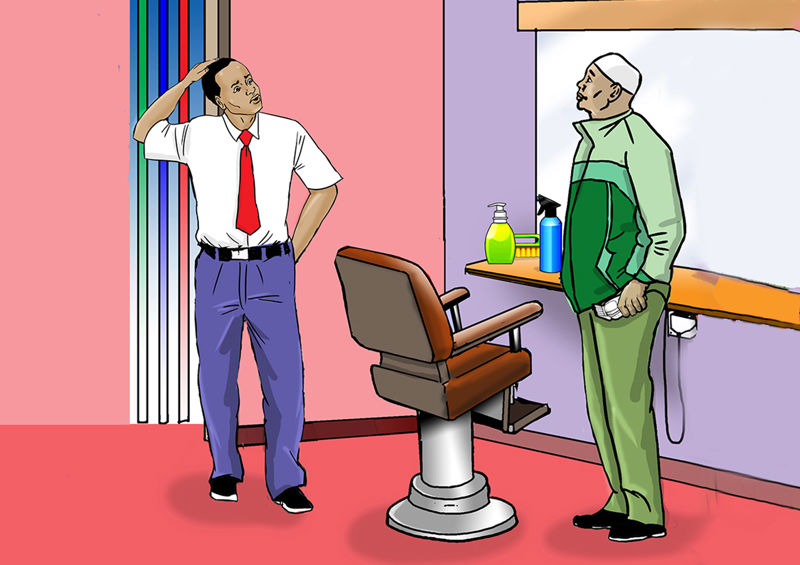 A
One day, a man in a big car splashed dirty water on three men walking to work. He worked as an engineer at a building site.
B
Later that day, his car broke down on his way home and he needed a mechanic. Next, he went to a barber's shop for a haircut. Lastly, he went to a butcher's shop to buy some meat. Each time he noticed that the men who were serving him were the same ones he had splashed dirty water on earlier in the day.
C
The engineer learnt a lesson. The next day, he stopped to give the three men a lift. They became friends.
Work in small groups and read what is inside each box. Now, match the six pictures with the three boxes. Note that Box B will go with more than one picture.
Groupwork
Activity 2
In small groups, talk about and write down composition topics that can be written from pictures.
Agree on one topic among the ones you have listed. Now draw or look for pictures that tell the story you have chosen.
Write the composition in groups.
Exchange the compositions with another group for proofreading. Point out what you like about theirs and also how it can be improved.
Pin up your composition, together with the pictures, on the wall.
Groupwork
Activity 3
Under the guidance of your teacher, work in groups and watch videos or pictures that tell a story.
Write the story and share it with other groups at home and at school.
Work as a group and look at other pictures, videos or newspapers. Talk about the ones that are good for creating an interesting composition.
Unit Summary
Find Out
Work in groups. Look for a story from the Internet or think of one you have read or listened to. Come up with pictures that can be used to represent it. Give your pictures to another group. Ask them to write the story.
Relax and Enjoy
| | |
| --- | --- |
| Doctor | You should take at least eight glasses of water every day. |
| Patient | That is impossible. |
| Doctor | Why? |
| Patient | There are only three glasses at home. |