Kiswahili Gredi ya 5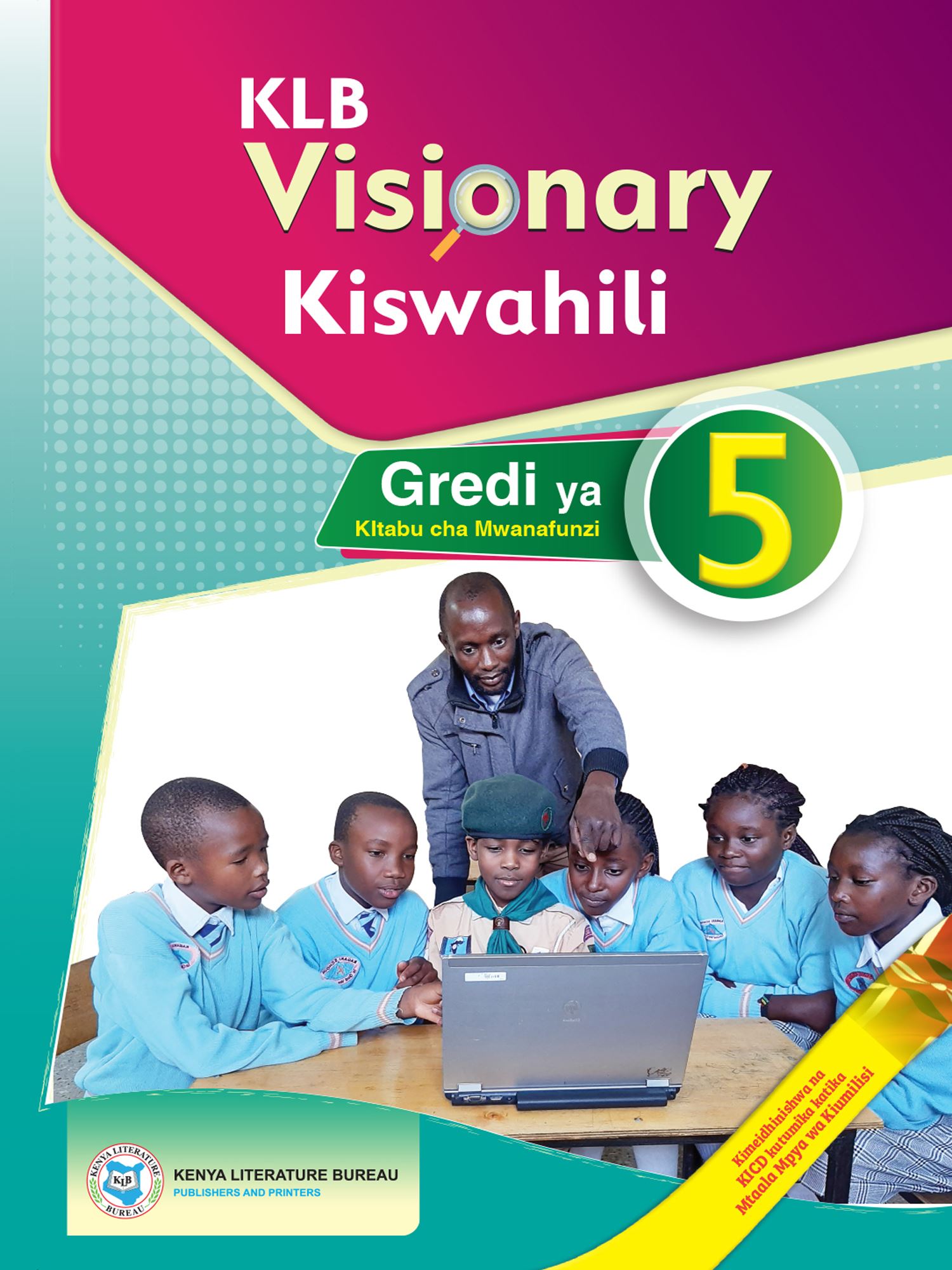 Authors
Mutahi Miricho, Sheilah Wandera, David Maina Kamau, Atibu Bakari, Katharine Wanjala
Exercises kit's authors
Mutahi Miricho, Sheilah Wandera, David Maina Kamau, Atibu Bakari, Katharine Wanjala
Publisher
Kenya Literature Bureau
Included in packages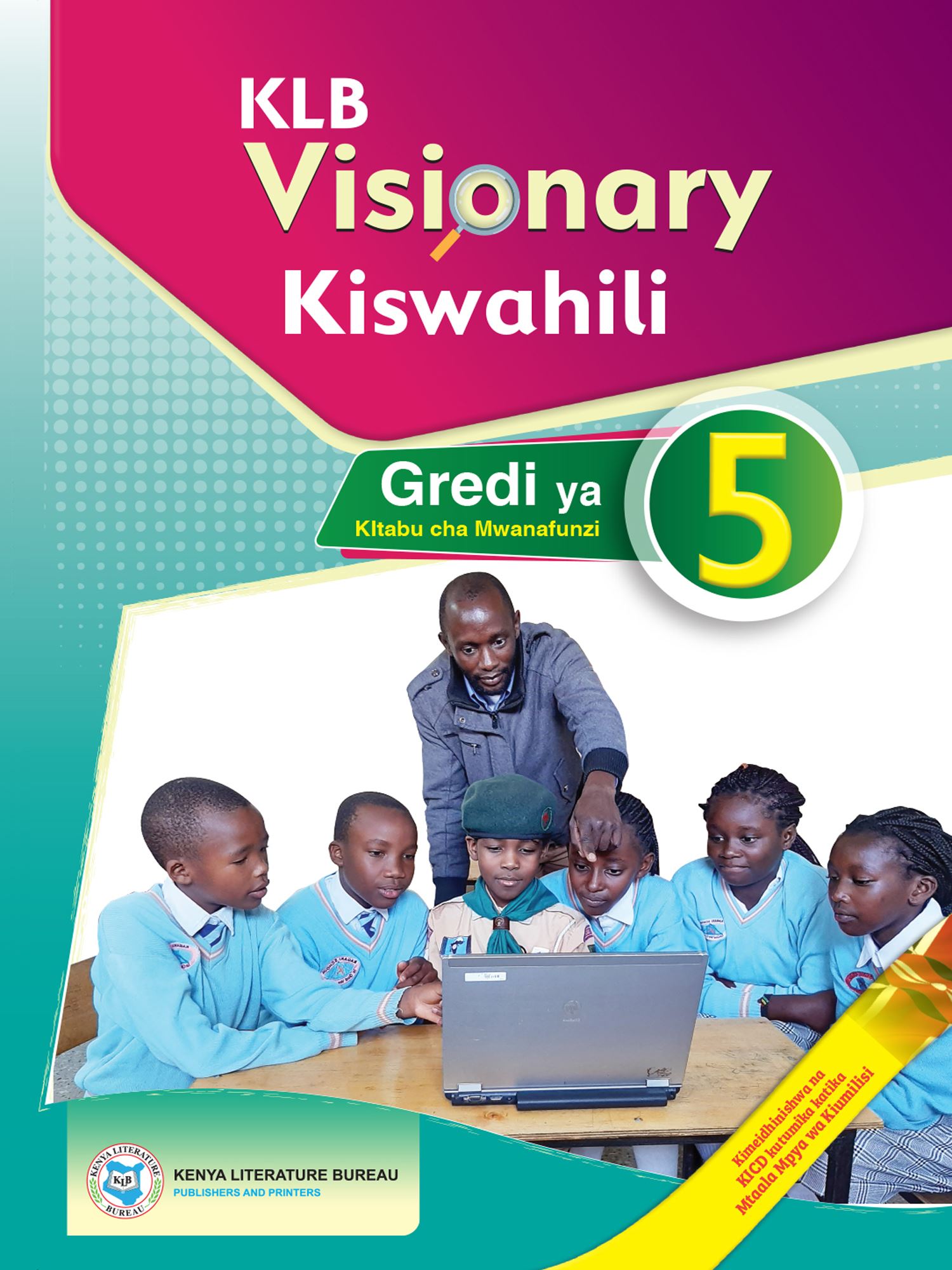 The study kit contains 44 chapters and teacher's exercises kit contains 69 exercises.

Authors

Mutahi Miricho, Sheilah Wandera, David Maina Kamau, Atibu Bakari, Katharine Wanjala

Exercises kit's authors

Mutahi Miricho, Sheilah Wandera, David Maina Kamau, Atibu Bakari, Katharine Wanjala

Subject

Kiswahili

Grade

Grade 5

Kit's language

Swahili

Publisher

Kenya Literature Bureau

Included in packages
KLB Visionary Kiswahili Gredi ya Tano (Kitabu cha Mwanafunzi) kimechapishwa kwa kusudi la kuendelea kuimarisha uwezo wa mwanafunzi katika lugha ya Kiswahili kupitia Sarufi na stadi za lugha; Kusikiliza, Kuzungumza, Kusoma na Kuandika. 
• Kitabu hiki kimechapishwa kwa kuzingatia mtaala mpya wa kiumilisi kutokaTaasisi ya Ukuzaji Mitaala Nchini Kenya (KICD) wa mwaka wa 2019 wa masomo ya shule to msingi,gredi ya tano. 
• Mwanafunzi amepewa nafasi ya kutosha ya kutambua na kujifunza mambo mapya iii kukuza uwezo wake wa kukabili mambo katika maisha. 
• Mazoezi ainati, mifano na picha zimetumika kwa nia ya kulenga toazingira ya mwanafunzi na usasa iii kumrahisishia ujifunzaji. 
• Masuala mtambuko to ya kijinsia yamejumuishwa kitabuni iii kukuza mwanafunzi anayewajibikia mabadiliko maishani. 
• Kitabu hiki kimekuza upekee wa kutumia shajara na kazi mradi katika sehemu ya mwisho ya kila mada. Shajara na kazi mradi zimekusudiwa kumsaidia mwanafunzi kutumia ujuzi wa mambo aliyogundua au kujifunza kutokana na mada husika iii kubuni kite kipya au kutatua suala fulani katika maisha ya kila siku. 
Vitabu vingine vya KLB ambavyo vimeidhinishwa to KICD ti: 
• KLBVisionary IRE Grade Five Learner's Book and Teacher's Guide 
• KLBVisionary CRE Grade Five Learner's Book and Teacher's Guide 
• KLBVisionary English Grade Five Learner's Book and Teacher's Guide 
• KLBVisionary Mathematics Grade Five Learner's Book and Teacher's Guide 
• KLBVisionary Science and Technology Grade Five Learner's Book and Teacher's Guide 
• KLBVisionary Music Grade Five Learner's Book andTeacher's Guide 
• KLBVisionary Art and Craft Grade Five Learner's Book andTeacher's Guide 
• KLBVisionary Physical and Health Education Grade Five Learner's Book and Teacher's Guide 
• KLBVisionary Home Science Grade Five Learner's Book and Teacher's Guide 
• KLBVisionary Agriculture Grade Five Learner's Book and Teacher's Guide
1. MAPISHI
2. HUDUMA YA KWANZA
3. MAPAMBO
4. SAA NA MAJIRA
5. KUKABILIANA NA UMASKINI
6. MAADILI
7. ELIMU YA MAZINGIRA
8. NDEGE WA PORINI
9. MAGONJWA
10. KUDHIBITI ITIKADI ZA KIDINI NA ZA KIJAMII
11. UWEKEZAJI